New regulations in place for Social media platforms, OTT, and digital media
The Government of India (GoI) issued stringent guidelines for social media platforms and a Code of Ethics for over-the-top (OTT) platforms and digital media.
The Government of India (GoI) issued stringent guidelines for social media platforms and a Code of Ethics for over-the-top (OTT) platforms and digital media. The new guidelines for big tech social media and digital companies cover several issues including aiding and abetting fake news leading to arson and terrorism, violation of the privacy of Indian netizens, failure to abide by Indian laws, etc.
In the eye of the storm are Facebook (FB) and WhatsApp combine on the one hand and Twitter on the other. FB announced a new policy that WhatsApp will purportedly share all conversations and information with Facebook. Twitter has refused to shut down accounts that the GoI says are spreading fake news, misinformation, encouraging anarchy, and even terrorism.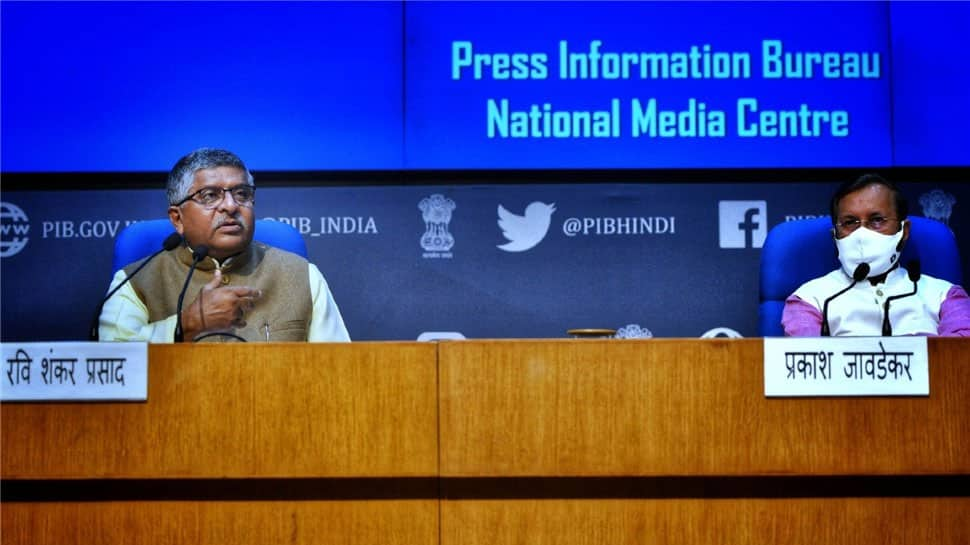 Indian Union IT Minister Ravishankar Prasad and Union Information & Broadcasting Minister Prakash Javadekar
The Supreme Court (SC) of India warned these companies "You (WhatsApp and Facebook) maybe two or three trillion companies but people value their privacy more than money. It is our duty to protect their privacy." In a press conference Union Electronics and Information Technology Minister Ravi Shankar Prasad reiterated GoI policy on February 25, 2021. "The social media is most welcome to do business in the country. They have done a good job in empowering the ordinary Indians and their platform has often been used to cast aspersion on most pressing issues." However, he cautioned that "the social media platform should not be misused" and have to "comply with the rules and regulations issued by the government." Prasad warned about double standards adopted by some social media platforms. "If an attack takes place on Capitol Hill in the US, then social media supports police action but if there's an aggressive attack on the Red Fort, then you've double standards." He said that such behaviour is "plainly not acceptable."
The Supreme Court of India
In response to GoI's strong words, Twitter has shut down many accounts and made them non-visible in India while refusing to shut down accounts of journalists, publishing houses, and activists claiming that they are violative of its policies on these subjects. The SC and GoI dismissed those arguments saying that their standards are irrelevant if it violates Indian law.
Meanwhile, the GoI has issued a second notice to Twitter over non-compliance with its order. While acknowledging the receipt of this notice, Twitter says that its actions are not violative of Indian law and it is exploring "options under Indian law." Increasingly, social media companies have been behaving as if they are above the law prompting many analysts to point out that their behaviour is reminiscent of colonial companies like the East India Company. Many lawmakers in India have asked for an outright ban on Twitter and a forced modification of Facebook's privacy violation policies.
Twitter Inc.
Prasad highlighted "concerns have been raised about rampant abuse of social media platforms and the spread of fake news.'' He announced a new policy where "Content involving nudity, morphed pictures of women have to be removed within 24 hours. Social media intermediaries have to appoint grievance officer, who shall register complaints in 24 hours."
He insisted that "Social media platforms upon being asked either by a court order or a government authority will be required to disclose the first originator of mischievous tweet or message." He clarified that these demands "should be only in relation to sovereignty and integrity of India, the security of the state, public order, relations with foreign states, or rape, sexually explicit content etc.'' To comply with these regulations, he required social media platforms to "name a grievance officer" and have a "grievance redressal mechanism" so that they can "register the grievance within 24 hours and disposal in 15 days." He required all social media platforms to implement these directives "within 3 months."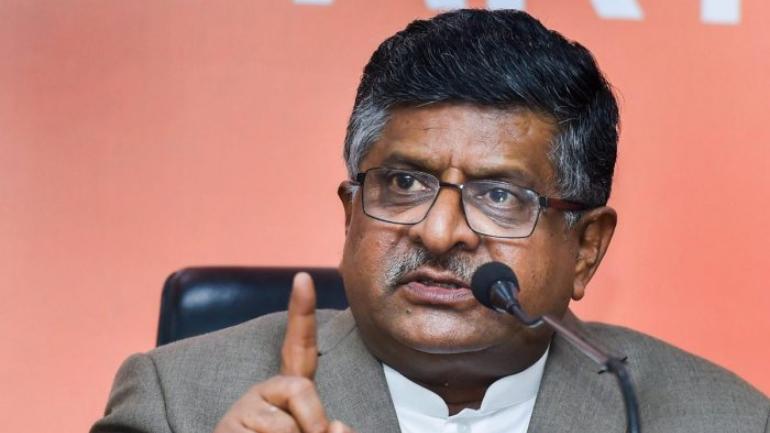 Union IT Minister Ravishankar Prasad
The social media platforms would also have to publish a monthly compliance report mentioning the details of complaints received and action taken on the complaints as well as details of contents removed proactively by the significant social media intermediary. In cases where significant social media intermediaries remove or disable access to any information on their own accord, then a prior intimation for the same shall be communicated to the user who has shared that information with a notice explaining the grounds and reasons for such action. Users must be provided with an adequate and reasonable opportunity to dispute the action taken by the intermediary, as per the new norms.
Union I&B Minister Prakash Javadekar, co-presenting at the press conference, required 'The OTT platforms would self-classify the content into five age-based categories- U (Universal), U/A 7+, U/A 13+, U/A 16+, and A (Adult). Platforms would be required to implement parental locks for content classified as U/A 13+ or higher, and reliable age verification mechanisms for content classified as "A"." He also said "Publishers of news on digital media would be required to observe Norms of Journalistic Conduct of the Press Council of India and the Programme Code under the Cable Television Networks Regulation) Act thereby providing a level playing field between the offline (Print, TV) and digital media."
Union Information & Broadcasting Minister Prakash Javadekar
Calling for a "grievance redressal system in OTT platforms and digital portals," he said that "OTT platforms will have to have a self-regulating body, headed by retired Supreme Court or High Court judge or very eminent person in this category,'' He promised an oversight mechanism at the government level as well. According to this three-level grievance redressal system, the first level is with the OTT publisher, the second level is at the self-regulatory body, and the third level would be with the Oversight Mechanism under the Ministry of Information & Broadcasting. He insisted that these new rules will ensure minimum government intervention provided the platforms should develop a robust grievance redressal mechanism on their own. The publisher shall appoint a Grievance Redressal Officer based in India who shall be responsible for the redressal of grievances received by it. Violation of laws will result in imprisonment of not less than five years.
Amazon Prime, already in trouble for a series of movies that were viewed as anti-Hindu and anti-India, is in serious trouble with the law. A recent series called "Tandav" offended so many people across the country that many police complaints were filed. Fearing arrest, the head of Amazon Prime in India appealed for anticipatory bail which was promptly rejected. Allahabad (city renamed as Prayagraj which is the ancient name for the city) High Court Judge Shree Sidharth pointed out that that the applicant was earlier granted interim protection from arrest by another bench in a similar case but "she was not cooperating with the investigation."
Amazon Prime
Observing that "Western filmmakers have refrained from ridiculing Lord Jesus or Prophet Mohammed. But Hindi filmmakers have done this repeatedly and are still doing this most unabashedly with Hindu gods and goddesses." He observed that "a number of movies have been produced which have used the name of Hindu gods and goddesses" and "efforts have been made to subvert the image of historical and mythological personalities." He concluded that "this tendency on the part of the Hindi film industry is growing and if not curbed in time, it may have disastrous consequences for the Indian social, religious and communal order." However, like many confused judicial decisions of late, the Supreme Court has overturned this ruling and granted Amazon Prime anticipatory bail.
The judge also summarised that "the applicant had not been vigilant and has acted irresponsibly making her open to criminal prosecution in permitting streaming of a movie which is against the fundamental rights of the majority of citizens of this country" and hence "her fundamental right of life and liberty cannot be protected by grant of anticipatory bail."
Allahadbad (city renamed to ancient name of Prayagraj) High Court Judge Justice Siddharth
In response to the judge's observations and the anger among the majority community, Amazon Prime Video issued a rare apology. It apologised "unconditionally to anyone who felt hurt" and promised to continue to develop content while respecting the diversity of audiences' culture and beliefs. India is a critical growth market for Amazon, where it has committed investments of $6.5 billion. Amazon was also recently exposed by a Reuters sting operation that found that the company gave deep discounts and exclusive tie-ups with preferred sellers and used that relationship to circumvent India's strict foreign investment regulations.
India's anti-trust body Competition Commission of India is probing the business model of Amazon and Flipkart following allegations of predatory pricing, deep discounting, exclusivity and preferential seller treatment. The company is facing similar charges and investigation in the United States and European Union. More than five lakh (five hundred thousand) traders came together under the umbrella of Confederation of All India Traders (CAIT) to protest against Amazon's founder and CEO Jeff Bezo's visit.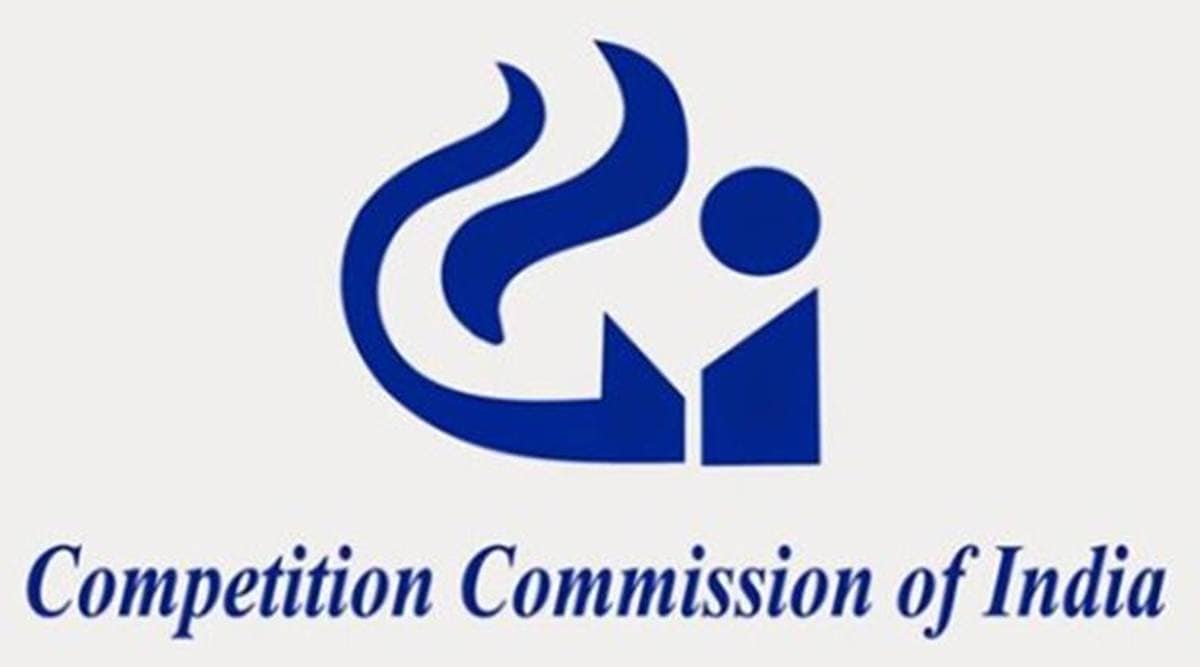 Competition Commission of India
Washington Post (WP), owned by Bezos, is also charged by many analysts and Indian citizens of harbouring deep-seated hatred for the Indian Prime Minister. Critics say that WP often carries lie-ridden articles and baseless articles to malign India, its democracy, and its elected. The columnists of the paper riled up opinion against the Bill and Melinda Gates Foundation decision to award Prime Minister Narendra Modi for the Swachh Bharat Abhiyan (Clean India) programme. Further, they had written malicious articles on internal policies and internal affairs of India.

The Washington Post
Resenting Bezos's attitude, Indian government officials refused to meet him when he visited India. Indian Trade Minister Piyush Goyal observed that if "Amazon lost 1 billion, naturally they have to bring in 1 billion dollars to finance that. They are not doing India any favours." On March 13, 2021, a draft e-commerce regulation requiring all e-commerce houses like Amazon, Flipkart, and Reliance Industries to have a uniform policy towards all sellers and not give preferential treatment for some.
Despite criticism from self-styled liberals on these policies, some critics in India say that the GoI has not gone far enough. Many cite Polish, French, and Australian proposed legislation that would make it illegal for social media platforms to act Judge deciding whose voice is heard. Poland's Prime Minister Mateusz Morawiecki "there is no consent to censorship" and "algorithms or owners of corporate giants should not decide which views are right and which are not."
Union Trade and Commerce Minister Piyush Goyal
Many in the west claim that the Internet is the new Utility and must be a right of every citizen. This is a fair demand. After all, the Internet as we know it today has evolved to be a veritable part of life and hence, denying the Internet will disempower populations. At the same time, since the Internet should now be seen as a Utility, it must also be regulated as one. After all, power, water, roads, sewerages, ports, airports, etc are also considered utilities and are subject to comprehensive regulation to ensure that their services are provided equitably to all citizens. Similarly, we need strong legislation that will govern the services of these companies to ensure that all citizens have the right to access this service while their privacy, data, and views are also preserved.
In many ways, the proposed regulation in India is more like an appeasement to not frighten international investors away from a post-pandemic recovery. It could be argued that this exactly the time when very strong regulation is required to control the behaviour, operations, and services of these companies. The economy is at the lowest possible point. The disappearance of Twitter or Facebook from India will not necessarily affect economic recovery although it may affect addicted users of these platforms. Similar fear-mongering was raised when India banned Chinese company Tik-Tok but apart from some mild protests, users moved on to new platforms that complied with Indian law.
At the very least, India must bring in very strong regulation that will impose hefty fines on these companies (in the order of hundreds of millions of dollars) for breaking Indian laws, require that data of all Indian users be stored in India, and hold top company officials culpable to those policies that violate Indian law. India must not allow neo East India Companies to emerge.
Finally, and most importantly, the government must lead by example and prioritise the publication of their information only on domestically developed and hosted platforms and delay the publication on foreign platforms by at least twelve hours. This will send a strong message to these companies that they are not that indispensable.
Reliance Industries's Jio brand